Why Future Compatibility?
Organizations today operate in a very different reality than when they were set up, filled with competing and emergent assumptions and challenges. From globalization, technological advancement and digitization, to technological unemployment, inequality and accelerating climate change – these factors combined have created conditions whereby most people expect business, government and organizations to be much more responsive to their stakeholders, and take more risks to create sustainable value for the long term. This is a clear opportunity for organizations to realign with emerging consumer expectations to retain loyalty by investing in strategies and programming that help differentiate them from peers to create value.
Realign with emerging expectations
The proliferation of global challenges has made the world more fragile and has caused consumers and citizens to expect more from businesses and institutions in exchange for their trust, loyalty and capital.
According to Harvard Business Review, investing in sustainability practices and programming improves an organisations operational margins, helps retain key employees, and catalyses innovation internally, helping organisations outperform their peers and the market while building defensible and long-term shareholder value.
According to research from Forbes Magazine, the average lifespan of a successful S&P 500 company in the 1920's was 67 years. Today it is 15 years.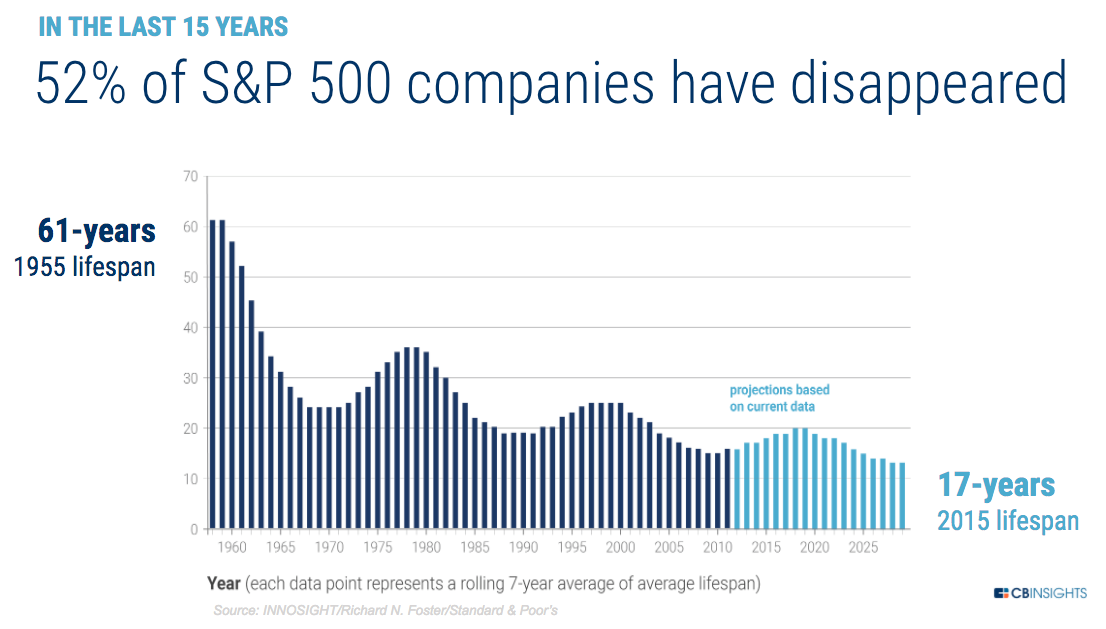 Do nothing and become futile...
Doing nothing today 100% guarantees you to become irrelevant tomorrow. Simply reacting isn't enough either. Survival will require accepting and anticipating change/disruption, and investing in equipping yourself for it.
Launching a Tech Start up is 100x cheaper
According to research from CB Insights, the cost of launching a startup are 100x less than ~10 years ago. This means that access to more powerful and cheaper technology will continue giving small companies and startups a disproportionate advantage in challenging incumbents and punching above their weight.